Get every cricket updates! Follow us on
Umpires play an essential role in ensuring the fair conduct of matches. They also determine the course of the game by making real-time on-field decisions which are expected to be impeccable, in order to avoid all sorts of discrepancies.
After 178 years of international cricket, the achievements of umpires are yet to be acknowledged and are often overlooked when compared to other participants of the game. However, among them are a few who become regulars and earn cult status among their fans. Umpires like Simon Taufel and Billy Bowden, for example, were liked and revered by fans and players alike. Among names who earned appreciation for international umpiring are David Shepherd, Ian Gould, Rudi Koertzen, Billy Doctrove and Marais Erasmus. Throughout their phenomenal careers, these names supervised a great number of matches successfully and have continued to be remembered by fans for their skills. 
With the kind of immaculate umpiring that umpires of such stature do, their retirement often ends up creating a void in the world of cricket. Today, we will look at 3 such international umpires who recently retired from international cricket, leaving behind years of legacy and perfection. 
Here are three umpires who retired from international cricket recently:
3. Nigel Llong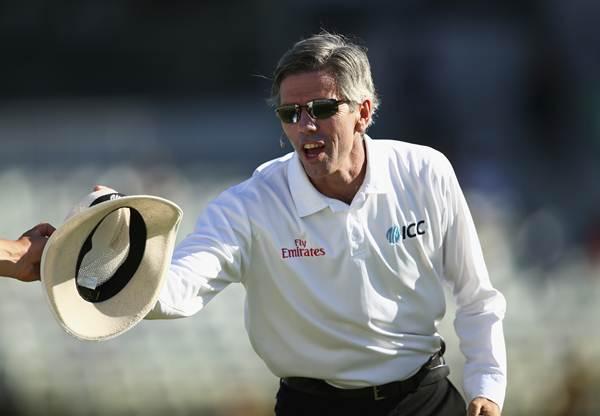 After bidding adieu to his career as a player, former England cricketer Nigel Llong started his new innings in the sport as an umpire. He kicked off his umpiring career in a T20 international match between England and Australia in Southampton, in 2005. After making his mark as an umpire early in his career, Llong got a chance to make his debut in the One-Day format as well. He officiated in an ODI for the first time in 2006, during the series between England and Sri Lanka.
Following his record in white-ball cricket, ICC selected him to stand in the longest format of the sport as well. In 2008, he made his Test debut in a match between New Zealand and Bangladesh in Dunedin.  
In 2020, he quit his umpiring career after conducting 224 international matches. His last appearance in the sport was in an ODI match between South Africa and Australia held in Paarl on February 29, 2020. Nigel Llong was a part of the umpiring panels that conducted the ODI World Cups in 2015 and 2019. After retiring as a cricketer, the England veteran continued to serve the sport for 15 years as an umpire.