Get every cricket updates! Follow us on
The Chief Operating Officer of Logistics Company Express Freight System have officially lodged a complaint for theft after Delhi Capitals' players lost their equipment worth lakhs at the Bengaluru airport. Additionally, The COO of the Freight Company has requested the Police to investigate this matter and help them figure out the missing items. 
Earlier it was reported that the Delhi Capitals were shocked to find their equipment missing from their kit bags upon arrival to Delhi from Bengaluru after finishing their IPL 2023 match against RCB. However, the COO of the logistics company has raised an official complaint in this regard and have approached the police to help them with the case.
The Delhi Capitals team lost multiple bats, pads and other stuff stolen from their luggage after they landed at Delhi airport from Bengaluru.
Chief Operating Officer of Logistics Company Express Freight System (I) Pvt Ltd registers a complaint for theft in cargo from Bengaluru to Delhi, at Cubbon Park PS in Bengaluru, Karnataka. The complaint states that at the Bengaluru airport their staff unloaded the vehicle and…
twitter.com/i/web/status/1…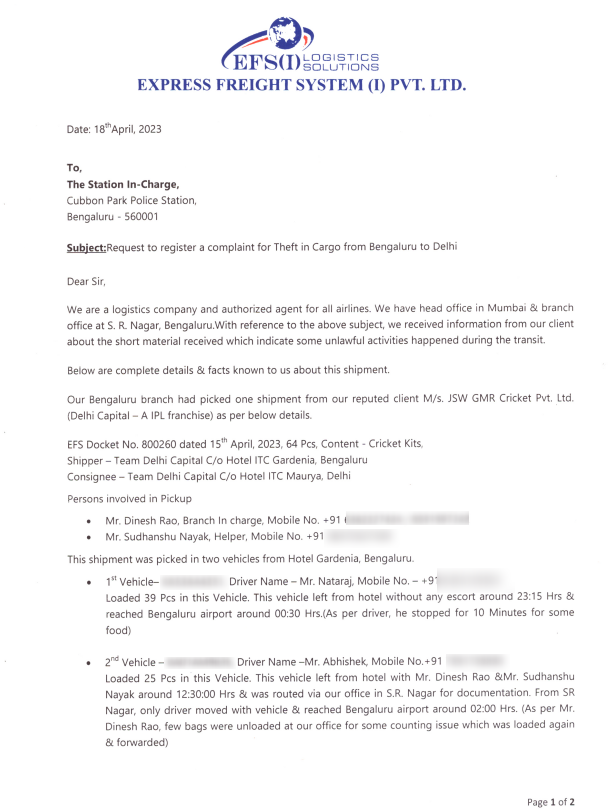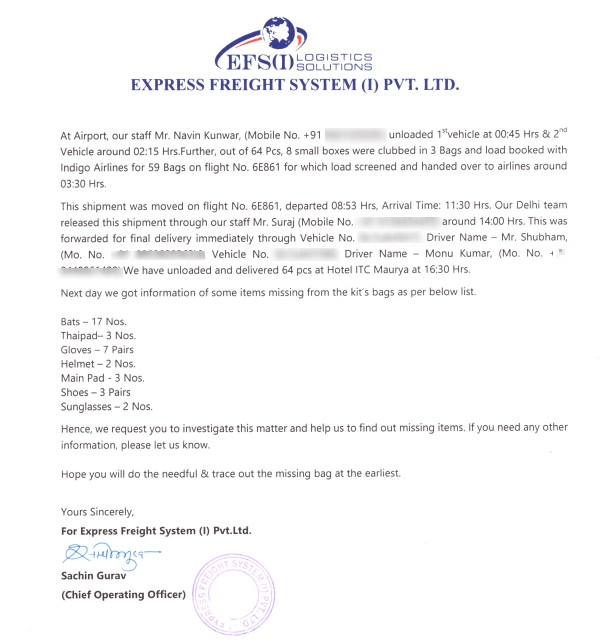 09:58 PM · Apr 19, 2023
"The complaint states that at the Bengaluru airport, their staff unloaded the vehicle and load was booked with IndiGo for 64 bags on Flight No. 6E861 for which load was screened and handed over," details of the statement were shared by the ANI.
Bats of key players like David Warner, Mitchell Marsh and Phil Salt are missing
Now, regarding the turn of events, it is being said that after the luggage reached the ITC Maurya, players found about some items and sports gear missing from their luggage. The very next day the logistics company received the information about the missing items.
"It further states their Delhi team released this shipment through their staff, the load was forwarded for final delivery immediately and 64 pieces were unloaded and delivered at Hotel ITC Maurya. Next day they got info of some items missing," the statement read.
Notably, as many as 17 bats, 3 thigh pads, 7 pairs of gloves, 2 helmets, 3 main pads, 3 shoes and 2 sunglasses are missing as per the complaint. It is understood that three of the lost bats belonged to DC skipper David Warner, two to Mitchell Marsh, three to Phil Salt, and five to Yash Dhull.
For the unversed, all the players leave their kit bags outside their respective rooms after each match in the league for the logistics company to take over. However, the players receive their bags outside their rooms at the venue they have travelled to for their team's fixture. Further details are awaited as the police are set to take over the case and help the logistics department to find the missing items.